Description
Natural toothpaste based on Aloe Vera gel, Peppermint essential oil and Stevia Rebaudiana leaf extract. With strong anti-plaque and anti-tartar action. Non-abrasive, so it does not damage tooth enamel.
Thanks to the Aloe Vera content, it is extremely effective in cleansing, soothing and relieving the gums. Furthermore, thanks to its healing properties, Aloe blocks and prevents bleeding, also regenerating damaged tissues. Aloe Vera, like Stevia, finally exerts an effective bactericidal action against the pathogens that cause tooth decay, thus reducing the risk of infections.
The taste is really good (especially for those who love mint) and leaves a fresh breath and a deep clean sensation. It does not contain fluoride, parabens, PEGs, fragrances or chemical surfactants.
Useful for:
Prevent the formation of tartar and plaque.
Sensitive and bleeding gums
Fights halitosis;
Does not attack the enamel;
Leave a deep feeling of cleanliness!
Property:
Anti-plaque action;
Anti-tartar action;
Soothing action;
Regenerating action;
Anti-inflammatory action.
Main ingredients
Aloe Vera gel
The gel contained in the fleshy leaves of Aloe Vera has an effective anti-inflammatory action on the entire oral cavity. The presence of Aloe guarantees an effective antibacterial action of the toothpaste, also stops bleeding and reduces inflammation. Furthermore, Aloe stimulates the regeneration of damaged tissues in case of wounds, canker sores and ulcerations of the mouth.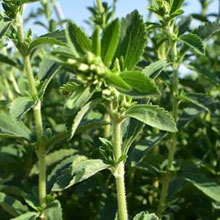 Stevia rebaudiana
Stevia rebaudiana is a native plant of South America, whose leaves are mainly used as a natural sweetener. However, unlike the common sucrose, Stevia does not contain calories and above all it does not cause tooth decay. Indeed, it has been shown that Stevia is effective in inhibiting the growth and reproduction of some bacteria and infectious organisms including bacteria that cause tooth decay and gum disease.
Essential oil of Peppermint
Peppermint essential oil fights bad breath, leaving a fresh breath and a deep clean feeling. It also has an antibacterial and preventive action on the formation of plaque. Finally, mint is an excellent natural analgesic, able, thanks to its refreshing action, to reduce the sensation of pain in case of gingivitis and pain caused by dental caries.
All the ingredients
Ingredients : Dicalcium phosphate dihydrate, * Aloe barbadensis leaf juice, Glycerin, Sorbitol, Cellulose gum, Silica, Aqua, Tetrasodium pyrophosphate, Sodium lauroyl sarcosinate, * Stevia rebaudiana leaf extract, Phenethyl alcohol, Caprylyl glycol, Mentha piperita oil, Limonene.
* Produced from our land with sustainable techniques.
It does not contain:
It does not contain fluorine;
It does not contain SLS ( Sodium Lauryl Sulfate ) and SLES ( Sodium Laurylether Sulfate ) surfactants ;
It does not contain PEG and parabens;
It does not contain liquid paraffin;
It does not contain saccharin;
It does not contain synthetic fragrances (only pure and natural essential oils);
It does not contain ingredients of animal origin (100% Vegan);
It does not contain GMO substances.
It does not contain gluten.
How to use
Recommended use is at least 3 times a day (ie after main meals). After use, rinse your mouth thoroughly.
Warnings
Containing essential oil of pierita mint, this product is not recommended for those who use homeopathic products and for those who are intolerant to mint.
Although natural, it is not a food product, so we recommend not ingesting it .
Shipping takes place every Monday, Tuesday and Wednesday, delivery in 24-48 hours on average to Italy, and 24-48 hours with air shipment, to the rest of Europe.
Shipment on the road to the rest of europe shipping takes place in 72/96 hours.